Pastor Doug Carroll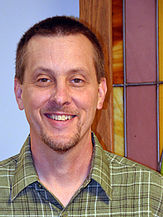 Hello, I am Pastor Doug Carroll. I have been a pastor for fifteen years. I graduated from Dubuque Theological Seminary in 2010 and was ordained in 2012.
Let me back up a little and share that I grew up in the Stockton area. My wife, Cheryl, and I lived in Stockton for ten years along with our two sons, which are now grown. Our eldest, Jason is an officer in the Navy and currently lives in California. Seth and his wife, Carrie, along with their two children live in Arkansas. I am blessed.
My life's theme verse is Proverbs3:5-6.
Trust in the Lord with all your heart
and lean not on your own understanding;
in all your ways acknowledge him,
and he will make your paths straight

Why do I claim this scripture as a theme verse for Cheryl and I?
Throughout life's journey, there are many times when we do not always understand the circumstances in which we find ourselves or we may be facing a decision that needs to be made.
The first three lines speak to what we, as believers are called to do, and the fourth line speaks to what God will do. God will make our paths straight.
These verses are powerful and have been proven to be true time after time throughout my faith journey. Whether I was facing a decision, facing a trying situation, or simply concerned about
cultural trends, it reminds me that God is always in control. I continue to place my trust in God for God is steadfast and faithful to his word. And because God is steadfastness, I (we) too, can
stand firm in our faith journey.
I look forward to sharing God's word with you, getting to know you, and doing life with you.
Pastor Doug Carroll